HVAC (Heating, Ventilation and Airconditioning) component start-up procedures describe how to start the operation of each component. They specify the methods to be used and the checks that are needed. Start-ups and related measurements are carried out by the contractor. Commissioning provider assists the contractor in the beginning of each start-up process and reviews that no systematic errors are made.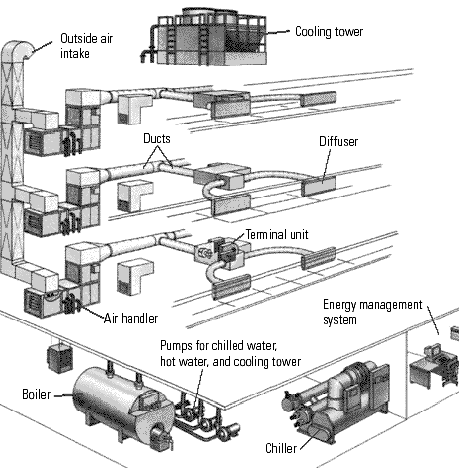 As an example, the following components or systems need to be started:
Dedicated outdoor air units, treated fresh air units and air handling units;
Variable Frequency Drivers (VFD);
Exhaust and supply fans;
Ductwork balancing;
Chillers;
Cooling towers;
Pumps;
Pipework balancing;
Variable Refrigerant Flow (VRF) system;
Heat pump system;
Precision air conditioning units;
Building management system (BMS).
Most of the start-ups also require measurements. The contractor must have sufficient measuring devices to carry on tests (Table below). Accuracy of each measuring device shall be good enough and the measurement range sufficient to the measured level. It is also important to have each measuring device calibrated less than one year ago. The contractor shall incorporate equipment type, accuracy, measurement range and calibration certificate of each measuring device as part of startup reports.
All measurement data shall be recorded using the template specified in the commissioning plan. After the start-up measurements of each equipment or subsystem, the contractor gives all reports for Cx provider, who provides a start-up review report to a client.
HVAC COMMISSIONING GUIDEBOOK  - Maija Virta  ((M.Sc.Eng) is the Founder Director of the Santrupti engineers Pvt Ltd. She has over 30 years of experience in construction and HVAC-industry around the world)